Just wondering if anyone has this besides me…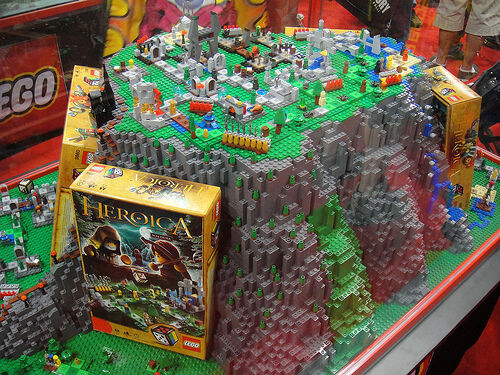 We talked about it a little in another thread, but it's basically HeroQuest dumbed down (in many ways) for smaller kids. In some ways it's actually strangely more advanced, owing to the imaginations of children in large part. There were five sets and each had a couple of heroes and a small handful of baddies based on the microfig (as opposed to minifig) Lego Gamepiece scale.
That's a mix of Heroica, Harry Potter, Ninjago, and others, and based on the 2x2 plate, 1 stud as a "space" on the board. These things.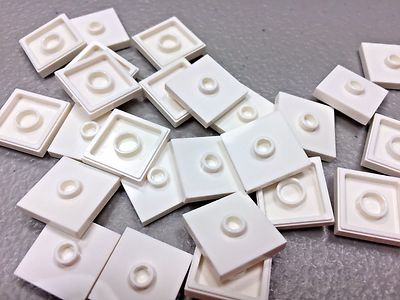 Dice… one. A big freakin' rubber thing with 2x2 stud sides with the following sides:
Shield/4
Sword/3
Sword/3
Skull/2
Skull/2
Sword+Skull/1
Roll to move. If you move adjacent to a monster you fight it automatically. Roll again. On victory (sword), monster dies. On defeat (skull), you lose a HP and back up one space. On the sword/skull, both of these things happen. If there are multiple monsters adjacent, you fight them all. On a shield (a big round fancy design pattern) you either win or can use a special ability or whatever depending on your hero.
"Fainting" ala Pokemon.
When you have 0 HP left, you need to rest awhile and then you pick right back up where you left off.
Treasure is openly on the board and when you step on it, you collect it automatically. Treasures are defined by one they are, for example the triangular transparent red "conical" single stud with a red round "cap" is a life potion that restores 2 HP. Here's the standards:
You can make others and people have! There are relics to be found and weapons to find or buy which give you the abilities of the people who start with them, basically.
The game is not hard, it barely counts as a game as players can't really "lose" and there's no GM. But modified rules exist to improve these aspects and you can have real combat rules … it just doesn't as shipped.
There are five main sets: Draidia Bay, Waldurk Forest, Caverns of Nathuz, Castle Fortaan, and Ilrion. There are other things I don't have: a mini polybag set called Ganrash (may not have ever seen US release), a set of character promo cards akin to the hero boards in HQ, a set of standard playing cards with Heroica artwork on them, and a postcard. I don't think Ganrash adds anything you couldn't get otherwise, but I'd need a parts list to know for sure.
Other Lego games have been "Heroicafied", there are a couple of attempts at "advanced" Heroica rules that make the game more like HeroQuest meets BrickQuest…
The heroes are:
Wizard
Rogue
Barbarian
Druid
Knight
Ranger
Sage
Prince
King
Monsters across the six sets are:
Goblin King
Goblin Warrior
Golem Guardian
Golem Lord
Goblin General
Goblin Guardian
Werewolf
Dark Druid
Spider
Bat
Vampire Lord
Zombie
I mean, some of these are characters that appear once, but the fact is that's more types of enemies than HeroQuest comes with. Of course, they're all functionally identical except for story purposes in Heroica. (Don't tell the six year olds…)